SUMMARY OF THE CHARITY "POCKET COMFORTERS"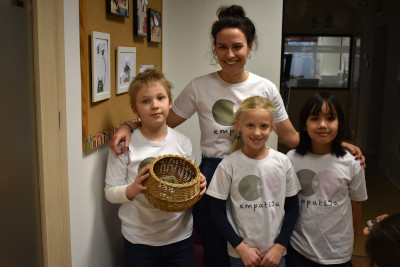 The EmpatiJa project is not only a cyclical psychological workshop for children in classrooms, but also the promotion of volunteering and other forms of assistance and support for people in need. Our students have proven that they can be empathetic and help others.
Together with the Martyna Wojciechowska UNAWEZA Foundation, our students organized an action as part of the EmpatiJa Project entitled "Pocket Comforter".
"Pocket comforter" is our school product made from matchboxes (each handmade and unique!). In the middle of a cute box there is a surprise, which could be discovered only after its purchase.
We managed to create 300 "pocket comforters" and sell almost all in one day! Funds from the sale of Comforters were donated to the UNAWEZA Foundation – children from Mexico. We collected 1.425 PLN
Our students also had the opportunity to meet with Ms. Małgorzata – a representative of the Martyna Wojciechowska Foundation and listen to her stories about helping on a global scale.