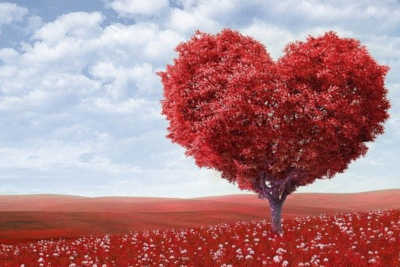 Love is such a feeling which stimulates thinking and does so that we are open to people.

Love is some kind of the second soul which opens the first soul, this right one.

Love is family and helping each other, as well as a shared, one heart.

I have no clue what love is. It's probably a nightmare.

Love is a big red.

Love is such a feeling when you more than like someone. Not forever but for some time. You can be constantly together or only sometimes. As you prefer.

Love is my dog and family. A mom is to love because she cares about us and dad cares about us sometimes too.

Love is definitely marriage and sometimes friendship. It's about showing cool stuff to each other and kisses. A child is also from love.

Love is something for sure. You love your wife or husband, parents, and stuffed toys.

You feel love to a close person, e.g. to your boyfriend or girlfriend. Love cannot be seen, it is felt in your heart –some kind of heat. When it is warm, people have a crush.

Love is affection. To love means to respect someone. I love my mom because she is my mom and she never wants anything bad for me.

Love cannot be seen, it is felt in your heart. It is invisible to us, only the heart sees love.

Love comes when you are very nice to someone. When you love someone, you may marry that person. A husband and wife are mostly in love with each other and give each other rings.

When you love someone, you cannot cause that person any distress.

I can't determine what love is because it is confusing. If you love someone, the universe just directs you to the beloved one.

There are butterflies in the air and in your stomach. When you're a child, you just like someone. When you're older, you can love.

As part of the wedding you can go on a romantic holiday and sunbathe together and play romantically.

Love is when you fall in love with someone and you give someone flowers with a card. In this card you may write everything.

When you love, you are helping others because you are the best at that time.

When I was in my mom's womb, I could feel that she was in love.

Love is a beautiful and nice feeling.

Love stands out among other feelings.

Love is when you adore someone and then you show your best traits at school.

You do your homework and get dressed in red together simply out of love.

People kiss out of love.

Such people only kiss out of love and that's it.

When you love, you go to parties together and share one cookie.

Love? I haven't heard anything about it.

When you see someone and you want to fall in love immediately.

At the beginning there is friendship, and then there's love.

People hug and kiss each other out of love and express nice things. You can say to a girl that she has a nice dress, and to a boy that he has a nice hairstyle because he's done his hair nicely.

When you love, you go on dates.

Love is something more than just to like someone. Even in the arguments you can love each other and then reconcile.

Love is only in dreams. In a dream you can dream about your wedding and the first meeting in e.g. Paris. My parents got engaged there.

People who are in love meet and declare love to each other, a few months later they get married. I've never been to such a wedding but I heard there is lots of fun. The wedding is over and love is sometimes over as well.

Love means helping someone in need, when someone's leg hurts, or when you are old and you can't get out of the car.

When you love someone, you may invite them to your house in the evening. Then you eat something, first it's a cucumber soup, and then a fish – salmon. Then such dinners are on a daily basis. I like cucumber soup and salmon the most.

You express love each day and you give presents and flowers, or a key chain. And if you do not give any gifts, you can just tell that to someone.