GOOD NIGHT STORIES OF REBEL GIRLS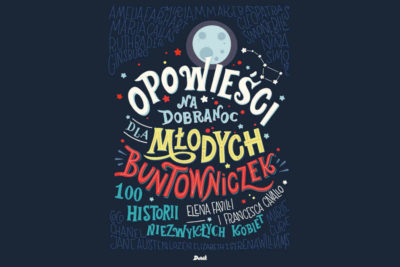 Rebels instead of Princesses 
The book is a collection of a hundred stories about women and girls who are known to the world and completely unknown. They share one thing – force, determination and desire to realize their passions. They are far from passive princesses in their own homes, waiting in the tower for the prince to come and who will give meaning to their lives. The rebel women know what they want and even though their life is not a bed of roses and the girls often have to overcome a lot of difficulties, they succeed thanks to their hard work and perseverance to pursue their desires. And so we get to know the stories of astronauts, activists, sportswomen, pirates, dancers, painters, rappers, writers, inventors and other independent and persistent women, real heroines from all over the world, both modern and historical.
The book is decorated with beautiful portraits of women created by sixty illustrators from all over the world (including Polish) invited by the author to cooperate on the book.
It is strange that "Good Night Stories for Rebel Girls" were written just now, and that we allowed whole generations of girls to be brought up on stories about male heroes who save the world, win out dragons and marry princesses who are rather not asked about their own opinions.
I recommend this book not only to girls, but also to boys, children and parents. It is a great position which builds the sense that gender should not be any barrier to promote so important issues for feminism as equality, diversity and independence.
Zofia Piersa-Poddębniak
Psychologist, Psychotheraphist