OFFER OF RENTING A COVERED SPORTS FIELD (08.07.2020)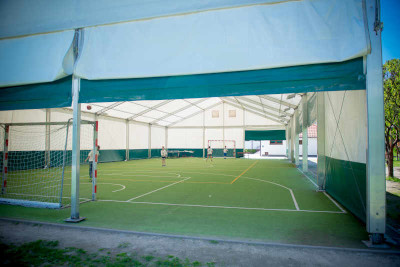 WE PROVIDE OUR CUSTOMERS WITH COMPETITIVE PRICES!!!
Looking for an exercise pitch? We have a covered sports field of 450 m2. Designed for organized groups looking for intimate conditions for exercising alone or with friends, as well as organizing special events. 
The pitch has an independent sound system, equipment suitable for its purpose and allows you to conduct a comprehensive training. We rent the pitch with access to women's and men's changing rooms and toilets.
WE HAVE A FULL-SIZE SPORTS FIELD WITH PROFESSIONAL SURFACE FOR:
handball
volleyball
basketball
indoor football
POSSIBILITY OF CONDUCTING GYMNASTICS CLASSES ON THE PITCH:
SPECIAL EVENTS:
ball
birthday
private view
local concerts
WE HAVE:
own sound system
basic sports equipment
THE PRICE INCLUDES:
power consumption
cleaning toilets
paper supply and hygiene products
person letting guests into the property
Table tennis tables can be set up.
THE COST OF RENTING FOR 45 MIN
– sports field – 50 PLN net (School is not VAT payer)
We invite you to take advantage of our offer!!